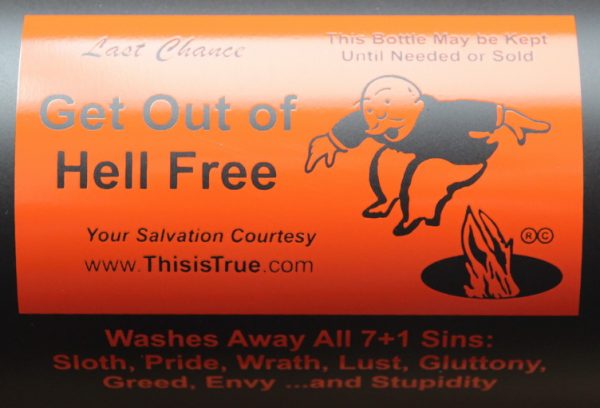 GOOHF Insulated Water Bottle
$33.00
Just a Couple Left!
Quick Specs:
Diameter: a tad over 3″
Inside diameter of neck: about 1-1/3″
Height (capped): just under 12″
Weight: about 15 oz (410 g) with cap.
Shipping is Extra: Charged at actual cost, calculated at checkout.
See below for full details.
2 in stock
Description
When I spotted this beautiful H2GO brand 26 oz (769 ml) 18/8 stainless steel water bottle "in the wild," I knew it was perfect for the Get Out of Hell Free line — and ordered 27 dozen of them (324 bottles). They're absolutely beautiful, and highly functional.
The photos just don't do them justice, but you can tell that the bottle is put together very well. The seams are tight, it's solidly built, and they fit into most automotive cup holders. The stainless top is nicely polished, and the matching lid is even insulated to help keep the contents hot (or cold!)
The GOOHF card imprint is the same size as a regular GOOHF card: 2×3.5″. The black body has a matte finish, and the deep orange imprint is glossy.
As for Function, I got one to test for a couple of weeks. The box notes that "the stainless steel insulated lid, narrow opening, vacuum insulated body and copper plated inner wall help retain the internal temperature longer." How long? "HOT: 12 hours" or "COLD: 24 hours." I tested that cold claim, filling the bottle with ice water* at 2:00 in the afternoon, and the water was still delightfully chilly the next evening, 28+ hours later, with daytime temperatures in the mid-80s. Cool!
* (Yes, the crescent-shaped ice-maker ice "cubes" do fit through the neck! See specs at top.) Or try this Helpful Add-on from Amazon: a tray to make ice sticks. As of this writing, a 2-pack is $10.
Wash before use. Hand-washing suggested. Made in China, printed in USA.
Parody: not affiliated with Hasbro's MONOPOLY® in any fashion
®"Get Out of Hell Free" and "This is True" are registered trademarks.
©2000-2016 ThisIsTrue.com