This is True's books are available as printed paperbacks, or as ebooks, which are naturally cheaper since there is no printing, inventory storage, or shipping involved.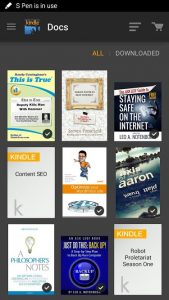 You don't have to have a dedicated "ebook reader" (let alone the Kindle brand) to read ebooks: you can read them on your computer (Windows or Mac), tablet (iPad or Android), or smartphone (iPhone, Android).
True ebooks are in the popular "epub" format, which even works for Kindle, as well as iOS (Apple) and Android devices. We used to also provide "mobi" format, but this format is essentially dead.
Macs come with an ebook application called Books, which works with epub files. You can also share those files to your iPhone or iPad.
For Android, the ePub Reader for Android is highly rated, and free.
For Windows, I highly recommend the free (and open source) Sumatra PDF reader, which also not only supports ebooks, but also the Open XML Paper Specification, Comic Book Archive (CB7, CBR, CBT, CBZ), and more.
For Kindle, use Amazon's Send to Kindle to (yes!) send the file to your Kindle. Easy!
If you buy from this shopping cart, the files are not copy protected — but of course, I hope you don't share them with others outside your household. Some are copy protected when purchased from Amazon, and they won't let me turn that off.
OK, if you've bought one here, how do you load up the file?
First: How to Get the File
The moment you order an ebook-enabled product, your order confirmation will show a download link right in your browser. Its a little small, but it's there. Click to download. On most computers, they will end up in your "Download" folder.
If you miss it there for any reason, your emailed receipt also has the link to download it. You have 5 days to download it/them.
Then move on to the next step….
Loading The File
If you're already using your tablet to buy the file, you can download it right to your tablet. You might have to move it to a specific folder, and "how" depends on your specific device.
For Kindle devices use Amazon's Send to Kindle.
Non-Kindle Devices
For ebook readers such as the Sony or Nook, or for your tablet or smartphone, you'll probably have to use a USB cable. Check your manual (or do a quick Google search) to learn how and where to load the file on the device. Since I don't have Apple products, or non-Kindle readers, I can't give you much advice. But just about all modern devices will read ePub.
Thanks For Your Purchase, which helps to fund This is True's continued publication.