This is True's books are available as printed paperbacks, or as ebooks, which are naturally cheaper since there is no printing, inventory storage, or shipping involved.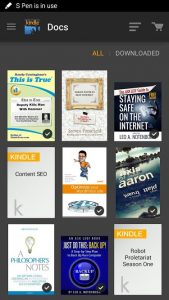 You don't have to have a dedicated "ebook reader" (let alone the Kindle brand) to read ebooks: you can read them on your computer (Windows or Mac), tablet (iPad or Android), or smartphone (iPhone, Android).
The True shopping cart lets you download ebooks in two formats: "mobi" and "epub". Mobi works best for Kindle, epub for iOS (Apple) and Android devices. Other ebook readers may have a file type preference for one or the other, so check its manual (or do a quick Google search) if you're unsure.
Macs come with an ebook application called Books, which works with epub files. You can also share those files to your iPhone or iPad.
For Android, the ePub Reader for Android is highly rated, and free.
For Windows, I highly recommend the free (and open source) Sumatra PDF reader, which also not only supports ebooks (both epub and mobi, though it renders epub better), but also the Open XML Paper Specification, Comic Book Archive (CB7, CBR, CBT, CBZ), and more.
Of course if you do have a Kindle (the waterproof Paperwhite is excellent), that's ideal. You can either buy True's ebooks from Amazon, or directly from here, downloading the file immediately after your purchase.
If you buy from this shopping cart, the files are not copy protected — but of course, I hope you don't share them with others outside your household. Some are copy protected when purchased from Amazon, and they won't let me turn that off.
OK, if you've bought one here, how do you load up the file?
First: How to Get the File
The moment you order an ebook-enabled product, your order confirmation will show a download link right in your browser. Its a little small, but it's there. Click to download. On most computers, they will end up in your "Download" folder.
If you miss it there for any reason, your emailed receipt also has the link to download it. You have 5 days to download it/them.
This is what you need to know: do you need the mobi, or the epub? If you're not sure, just grab both and you can later toss what you don't need. The epub format seems to work best with most reader devices and software, but if it's wonky then try the mobi.
Then move on to the next step….
Loading The File
If you're already using your tablet to buy the file, you can download it right to your tablet. You might have to move it to a specific folder, and "how" depends on your specific device.
For Kindle devices you have several options:
Most Reliable:
Email it

to your Kindle

Not everyone realizes it, but every Kindle activated with an Amazon account is assigned a unique email address. You can simply email the ".mobi" file as an attachment to the email address associated with your Kindle.

To find the email address of your Kindle, login to your Amazon account and visit the Manage Your Content & Devices page.

It defaults to showing you "Your Content" — the Kindle books and other items in your library. Click on the "Your Devices" tab to see the Kindle devices and applications that are associated with your account.

If you have more than one, you can click on each device and, below, it will show the email address associated with that device. Only you can send to it (and other addresses you allow). You must send from your authorized address (also shown there — usually it's the address you use to log in at Amazon).

More details in Kindle Help on Amazon.
Copy it to Your Kindle
Connect your Kindle device to your PC using a USB cable.
In Windows Explorer / File Explorer your Kindle will either appear as an additional drive, or as a Kindle device. In either case copy the ".mobi" file into the folder "Books" (Kindle Fire devices) or "Documents" (Kindle Paperwhite and older devices) in the device's internal storage.
After it has been copied, "eject" your Kindle as you would any other USB device, and the book should appear on the device's list of books. On some Kindles it appears in a separate "Docs" or "Documents" page instead of with other books.
Note: copying a book to the device in this manner does not place it in your Kindle library for other devices.
Use a Kindle App
This is how you can read on your phone, tablet, or computer: download and install the appropriate Amazon Kindle Reader application — they're free, and there's one for iOS devices, Android, Windows, Mac, and more. Once you have it set up, you can transfer the ebook file to the device as above.
On a computer, if the book doesn't show up in your book list, find the mobi file on your hard disk and double-click it: that will open the file in the Kindle app.
But again, you don't even need this app, on Windows at least. Try the free (and open source) Sumatra PDF reader discussed above.
Non-Kindle Devices
For ebook readers such as the Sony or Nook, or for your tablet or smartphone, you'll probably have to use a USB cable. Check your manual (or do a quick Google search) to learn 1) what file type it prefers, and 2) how and where to load the file on the device. Since I don't have Apple products, or non-Kindle readers, I can't give you much advice. But just about all modern devices will read Mobi or ePub, or both.
Thanks For Your Purchase, which helps to fund This is True's continued publication.