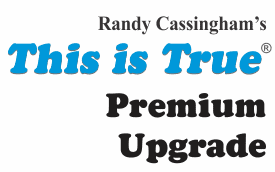 Premium with Recurring Renewal
From: $11.00 every 3 months
Premium upgrades, renewals, gifts, and gift renewals which automatically renew when it's time. See below for complete details.
Premium upgrades are on a Pay What You Want model, starting at $40/year, with a "suggested" amount of a dollar a week.
You must create an "account" in this shopping cart for recurring subscriptions to work. It is highly recommended you use a credit/debit card, rather than Paypal, when you check out, since this gives you the option of later changing your renewal frequency if you wish.
If you prefer, subscriptions without auto-renewals are here.
Substack Readers: See below for important details.
Description
The Premium edition of This is True has all the stories each week — not just the 4-5 articles in the free feed. You get a lot more True with a Premium Upgrade, which has several other valuable features:
You get the entire column, not the abbreviated selection of the free feed. The full column has at least 10 stories each week — usually more.
No outside (third-party) advertising to interrupt your reading.
Arrives much sooner than the free edition (late Monday nights).
You get occasional extra features and stories that are not sent to the free-feed subscribers.
You are left on the free distribution — you can decide for yourself whether you want both or not. (Many Premium subscribers prefer to get both.)
You get a 20% discount on This is True book collections, with no minimum or maximum — if you're buying books as gifts (a great idea), this benefit could easily pay for your Premium subscription!
Easy address changes*.
*You can update your address as often as necessary — see the bottom of any issue for a special update address. Since I am rather open with "free samples" (you know what you are getting before you pay for it!), there are no refunds should you unsubscribe for any reason, since this is not refunded by the processor. See the Privacy and Polices page for full terms and conditions.
Note your payment may be adjusted by a few days earlier so there is no gap in your subscription.
Should you wish to unsubscribe or change the amount or frequency, you can Update/Cancel your Recurring Subscription yourself, or send me an email clearly explaining what you wish changed.

Substack Readers: Thanks for your interest! Just to be clear, this upgrades you to Premium within the This is True, not Substack, ecosystem. The only way to get Premium newsletters is by email, and there is no web version of the Premium newsletter. It's totally up to you whether you keep the Substack version: you may wish to stop your subscription there if Premium fully meets your needs.