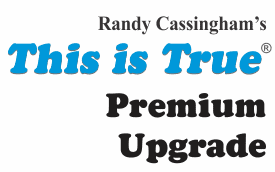 Premium Upgrade or Renewal
Premium upgrades, renewals, gifts, and gift renewals. See below for complete details.
Premium upgrades are on a Pay What You Want model, starting at $40/year, with a "suggested" amount of a dollar a week.
If you want automatic renewals (quarterly, semi-annual, or annual), that's available here.
Suggested Price: $52.00
Description
The Premium edition of This is True has all the stories each week — not just the 4-5 articles in the free feed. You get a lot more True with a Premium Upgrade, which has several other valuable features:
You get the entire column, not the abbreviated selection of the free feed. The full column has at least 10 stories each week — usually more.
No outside (third-party) advertising to interrupt your reading.
Arrives much sooner than the free edition (late Monday nights).
You get occasional extra features and stories that are not sent to the free-feed subscribers.
You are left on the free distribution — you decide whether you want both or not. (Many Premium subscribers prefer to get both.)
You get a 20% discount on This is True book collections, with no minimum or maximum — if you're buying books as gifts (a great idea), this benefit could easily pay for your Premium subscription!
Easy address changes*.
*You can update your address as often as necessary — see the bottom of any issue for a special update address. Since I am rather open with "free samples" (you know what you are getting before you pay for it!), there are no refunds should you unsubscribe for any reason, since this is not refunded by the processor. See the Privacy and Polices page for full terms and conditions.