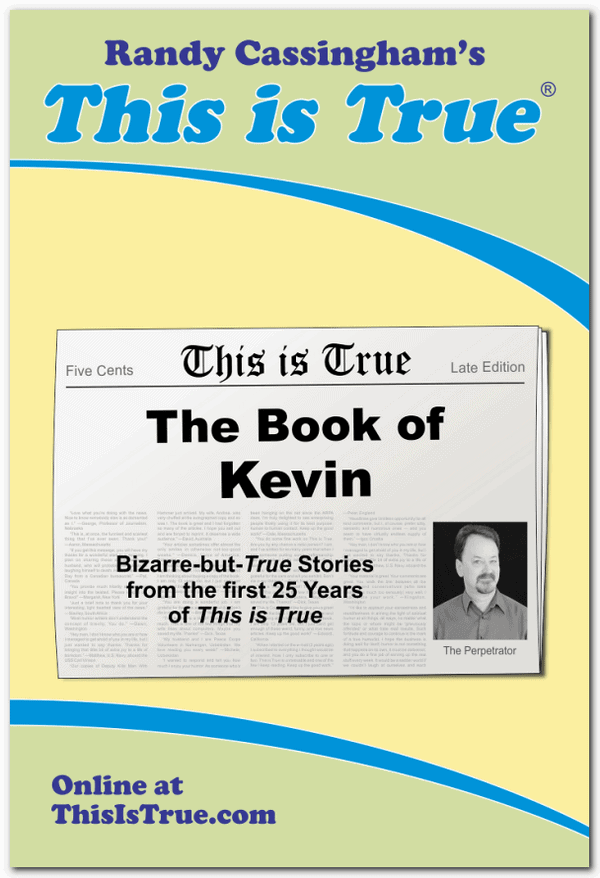 The Books of Names
$17.00
Available from us AND Amazon: See below for info.
The perfect gift for anyone with that name. See below for more.
Shipping for Paperbacks is Extra: Charged at actual cost, calculated at checkout.
Premium subscribers are eligible for a 20% discount: enter coupon code premiumbooks upon checkout.
Description
Over Time, We'll Have a Selection of books that feature stories with specific names. Right now, there's only the one: Kevin — a proof of concept.
Every story in this book includes someone named Kevin. They're all true stories from "legitimate, mainstream news sources" in the This is True tradition: they're from our archives going back 25 years.
Like What?
Like this: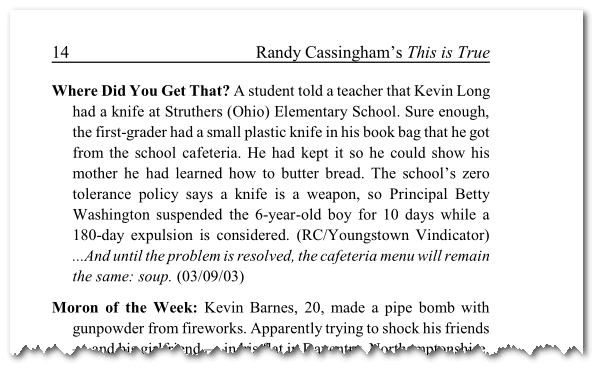 If there's a "Headline of the Week" that includes the featured book name, it (or they) will also be included, but it's rare that headlines feature people's names, so don't expect it. There are none in Kevin.
Each story follows the usual This is True format as illustrated in the above graphic, with one addition: the date of publication is added to the end, in the format MM/DD/YY. Like this:
Brief Slug (or Title): Then in this space, a brief retelling of a real news story from a "legitimate mainstream news publication" that gets quickly to the point in around 100 words. (**/News Source) …Here, a "tagline" comment on the story, which is the stylistic trademark of This is True. (MM/DD/YY)
** The initials of the story's contributor go in this spot. Certainly by far most of the stories are by This is True founder Randy Cassingham — "RC" — but there are other contributors over the years. In the Kevin book, that includes:
"JW" — Jennifer Weiner, a radio show producer.
"MS" — Mike Straw, a retired U.S. Air Force officer.
"AC" — Alexander Cohen, a lawyer turned writer.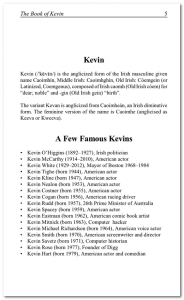 Another Extra Feature: Since this book is about the name and intended to be a gift, each volume also has an introduction page such as what's shown here (click to see larger).
How Big is Each Book?
The books of course vary widely in the number of stories, and thus the number of pages. All are priced the same: the gift is in the unique concept, not the number of pages. But to answer the question:
Kevin is 40 pages.
more to be added to this list over time!
This is True books make a great gift. Our attention to quality makes your gifts all that more appreciated. The quality is so high, we've never had one returned under our better-than-risk-free satisfaction guaranteed policy! Also, don't forget that Premium subscribers get a 20% discount on books — no limit! Your discount could pay for your Premium subscription. You may order discounted books at the same time you order a Premium subscription.
Free shipping is by media mail to USA.
Also Available Via Amazon. That link is the best place to order them if you're outside the USA, or in Colorado (sigh).