Sale!
Drone Pilot Wings: the Entire Business
$3,000.00
The entire Drone Pilot Wings business: the domains, site, inventory, and more. See below for full details.
1 in stock
Description
A turnkey business that was recently operating and earning a profit: Drone Pilot Wings.
"Pilot wings" are awarded by the military to servicemen and ‑women when they qualify as pilots. For instance, here is an illustration of the wings that are awarded to U.S. Air Force pilots — they are the inspiration for Randy's Drone Pilot Wings design.
Pilots — military, drone, and otherwise — are rightly very proud of "earning their wings," and display them on their jackets, caps, or attached to equipment cases.
The wings were designed by Randy Cassingham (based on the USAF pilot wings) and were manufactured according to his specifications: 2″ wide, a double "butterfly" clutch-pin back so they stay straight, and solid metal with a polished nickel finish.
We have sold well over 1,000 of these wings (retail price: $20, with discounts for more ordered at the same time, and one add-on upsell, a printed Certificate of First Flight, that adds $7).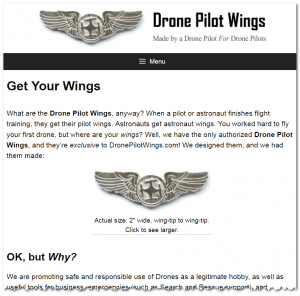 The quantity that we have shipped per order range from 1 to 100 units. In addition to individual pilots, we have sold to drone flight schools, government agencies (particularly municipal), and other entities.
The only advertising done for the site has been in the This is True newsletter. Might sales increase with targeted advertising, such as on Facebook? We certainly think so, but Randy is too busy with other projects to add on more effort to this project — hence this sale.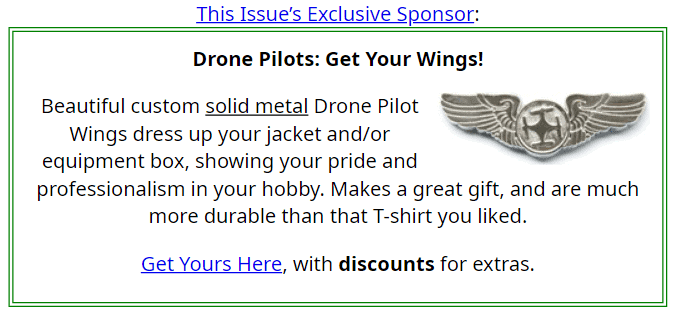 At the same time, the percentage of purchases going to those who are not subscribers to the This is True newsletter is increasing. We believe this is due to (all accurate as the time of this posting):
The site is #1 for the search "drone pilot wings" on Google.
The site is #1 for the search "uav pilot wings" on Google.
The site is #4 for the search "drone wings" on Google (for this search term, actual drone propellers on Amazon is #1).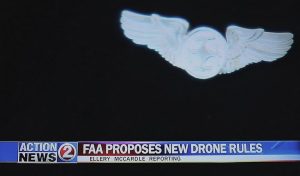 Suggested Enhancements to the Business
Before he decided to sell the business to concentrate on other things, Randy had planned to:
Order more wings!
Advertise the wings on Facebook (very easy to target drone owners: there are many drone groups on Facebook).
Install shopping cart on the site for more payment (and quantity) flexibility.
Open up the blog on the site to post articles to attract site traffic (Randy did that for the first couple of years, but then got too busy).
Consider advertising on Google.
Consider price increase.
Consider adding gold-tone wings; some police agencies, for instance, prefer "gold" over "silver" in their uniform codes.
Consider offering them through Amazon.
Consider partnering with drone flight schools, particularly those with FAA commercial drone pilot certifications (for motion pictures, real estate sales, etc.)
Research whether address lists of FAA-certified drone pilots are available for direct marketing.
Purchase Specifics
Upon successful purchase, the buyer will receive:
Full ownership of the business to conduct as you please.
Full ownership of the domain name "DronePilotWings.com". Once transferred to you, you may move control of the domain to any registrar you prefer, or stay with the registrar we use. There is no need to get an account at our registrar for the domain to be transferred to you: they will create one upon transfer, which you can keep or move from at your preference.
The remainder of our inventory of wings — just under 100 units — and the contact information for the Colorado-based broker who found and interacted with the manufacturer on our behalf. We will pay the shipping cost for the wings for delivery within the USA. If you are outside the USA, you will be responsible for arranging the shipping (we suggest UPS or FedEx with tracking). We highly recommend that the business be operated in the USA as the vast majority of sales are within the country; shipping costs may be prohibitive if operated from another country, thus affecting sales.
Hosting of the site for up to 28 days while you arrange for its transfer to another host server. If for any reason you need us to host the site for longer than 28 days, the cost will be $50 per month or any portion thereof, payable in advance.
Certificate templates (CorelDraw file format), and site graphic files in the same format.
An archive file of the site which can be uploaded to a new host and activated very quickly — literally a 10-minute job. Includes the software needed to restore the files. Alternatively, many hosts will simply transfer the site over for you.
The buyer will not receive:
You will

not

receive the right to use Randy Cassingham's name in marketing, nor on the certificates you may issue. (He'll consider requests to include his name as the founder and/or designer.)
You will

not

receive the right to use our trademarks beyond "Drone Pilot Wings" — you may not advertise or trade under the name "This is True" or any of our other marks. ("Drone Pilot Wings" does not have a federal trademark registration.)
You will

not

receive the paper stock for printing the certificates. We have been using this style from Amazon.
You will

not

receive the licenses for some of the software used for the site, notably WordPress plugins for security and backup. These will be your responsibility to procure, whether the same brand as what we use or other such solutions. These plugins may be used while still hosted on our server (see inclusions above).
You will

not

receive the names, emails, or physical addresses or other identifying information of past customers. This is due to our corporate Privacy Policy, as well as various privacy laws.
You will

not

receive consulting services from Randy Cassingham. If you need such assistance, this may be purchased separately — including installing the site for you on your cPanel-enabled host if you need that. This should be set up in advance (before the domains are transferred to you). We do not guarantee that Randy Cassingham will be capable of assisting with every specific question you may have, but reasonable expertise in operating the site and hosting WordPress installations on cPanel servers may be assumed.
Why the Price Reductions?
We're reducing the price periodically until someone grabs it.